Spa break during the week
3 days and 2 nights in a Suite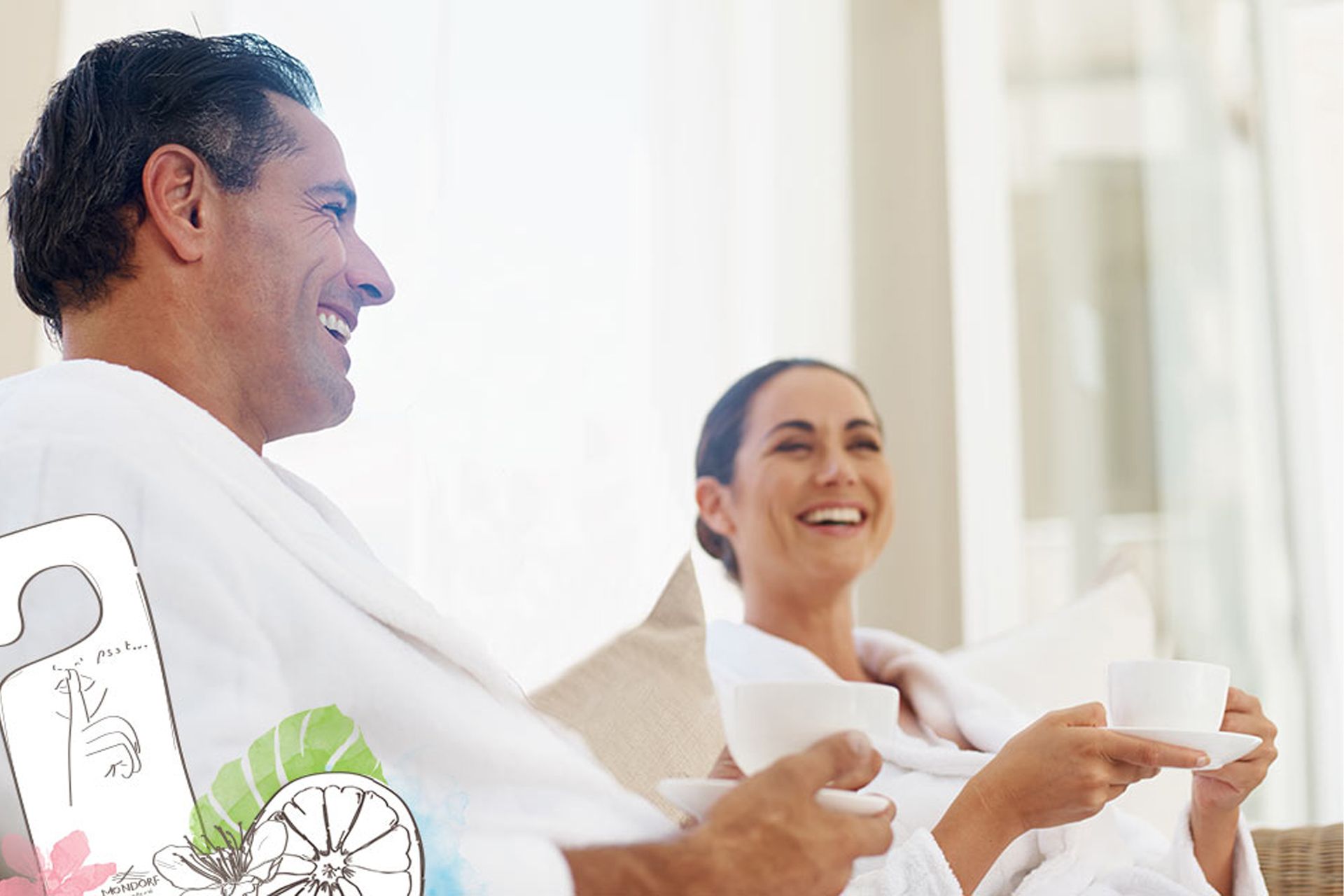 ACCOMMODATION UPDATED TO SUITE CATEGORY
2 nights in a Suite, double occupancy, at the Mondorf Parc Hôtel & Spa****SUPERIOR. On the nights of either Tuesday and Wednesday or Wednesday and Thursday (to be planned).
Bathrobes and towels available in the room so that you can make the most of the spa facilities
SPA CARE TREATMENT
Massage is one of the oldest manual techniques for relaxing the whole body and is geared to physical and mental well-being.
Thanks to its Waterbed system at 37°C, this technique promotes maximum relaxation and better absorption of the products by the body, each of which contributes its own virtue - discover the selection of products on offer.
RELAXATION AT THE SPA
CATERING
2 gourmet buffet breakfasts: a variety of organic products, made in-house, hot and cold, pastries, fresh eggs, fresh juices, cereal, honey from our park….
1 welcome drink at the Feierwon Cocktail Bar – from a selection of drinks
1 dinner (starter, main course, dessert – excluding matured meat and Mibrasa (excluding drinks) in the Brasserie Maus Kätti or the Restaurant Chalet am Brill - depending on opening days
1 dinner (starter, main course, dessert – excluding drinks) in the Restaurant bistronomique De Jangeli - depending on opening days
ADVANTAGES OF THE STAY
Upgrade to Suite instead of Premium category
Access to the Wellness & Fitness facilities as of 3:00 pm on the day of your arrival until these facilities close on the day of your departure – see the opening hours
Free outdoor parking for the duration of your stay:
inquire at the reception upon arrival for your ticket
Free cancellation of your stay up to the eve of your arrival
MORE INFORMATION
By reservation only and according to availability.
This care treatment can be realized for 2 in a private lounge.
Offer valid for all stays booked until 21/12/2023.
Rate for Premium room, double occupancy – upgrade to Junior Suite or suite, depending on availability
Offer available only for double occupancy, (2 people).
Valid for all bookings for a minimum stay of 2 consecutive nights during the week – arrival possible on Tuesday or Wednesday
Our hotel is offering a selection of extra services (on demand) to make it a memorable experience: flower bouquets, bottles of wine, crémant or Champagne, home-made birthday cakes, Spa gift certificates and more.
Reduce room rates for additional nights.
In the event of late cancellation (less than 24 hours before arrival) or of failure to show up at the hotel, the entire rate for the stay shall be payable.
Not combinable with other promotional offers or discounts.
Credit card required to guarantee the reservation. No prepayment required upon the reservation.
Inclusive:
Massage | 25 min. & Wrap | 20 min.
Upgrade to Suite instead of Premium category and get a welcome drink at the Feierwon Cocktail Bar
2 gourmet buffet breakfasts: a variety of organic products, made in-house, hot and cold, pastries, fresh eggs, fresh juices, cereal, honey from our park….
2 dinner (starter, main course, dessert – excluding matured meat and Mibrasa (excluding drinks)
Access to the Wellness & Fitness facilities as of 3:00 pm on the day of your arrival until these facilities close on the day of your departure – see the opening hours
Free outdoor parking for the duration of your stay and free cancellation of your stay up to the eve of your arrival
Availabilities
14.03 - 28.12.2023